---
Precision Farming
---
We whole-heartedly believe that precision farming and the use of GPS is the future of profitable arable farming, saving inputs, time, fuel, wear on machinery and operator fatigue.
We have invested heavily in our machinery to allow us to utilise the technology available. We use RTK guidance technology to achieve the highest possible guidance accuracy of +/- 2cm pass to pass which is also repeatable, allowing us to keep tramlines in the same place, year on year. This technology also enables us to use section control on the fertiliser spreader and the crop sprayer to eliminate overlaps.
We use our John Deere Gator with RTK mapping to record field boundary lines which can then be shared to each farm machine, preventing them from running outside of that boundary line and for example protecting 1m cross compliance margins or Countryside Stewardship buffer strips and options.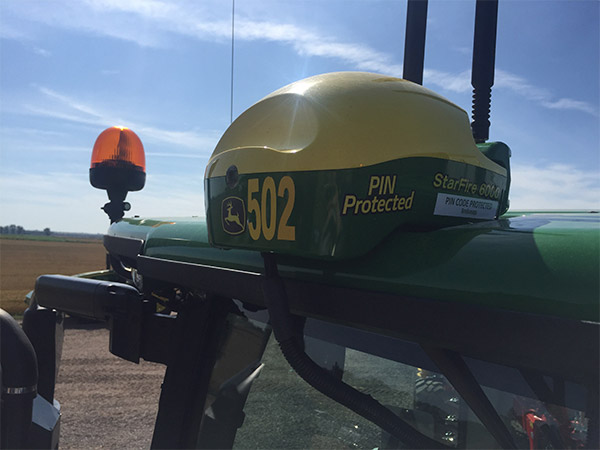 Variable Rate Drilling and Nutrient Applications
We use SOYL Precision Nutrient Management which involves using GPS technology to accurately map soil nutrient variation across each field through soil sampling, analysis of phosphorus, potassium, magnesium and pH with subsequent mapping.
This enables us to apply phosphate, potash, magnesium and lime at variable rates using GPS technology on our tractors and variable rate spreading capability of our Amazone ZA-TS fertiliser spreader, ensuring that we only apply where we need to.
We can also drill crops at variable seed rates, using the SOYL data and our drill which helps with establishment of the crop, improving yields and to combat blackgrass problem areas.

Tyres and Tracks
We operate two high capacity combine harvesters to facilitate a fast and efficient harvest and match the output of the combines with our grain chaser and 18t trailers.
In order to minimise compaction, the combines run on tracks and the chaser bin and trailers are fitted with flotation tyres and run at suitable pressures. Tractor tyre pressures are adjusted to suit the job being undertaken, especially when carrying out cultivations. Soil compaction is an issue we take very seriously as it impacts on so many areas of crop production.
Slug Pellets and Avadex Application
Our Cambridge rolls are fitted with an applicator capable of applying Avadex or Slug Pellets. GPS steering on the tractor allows precision application of these products by avoiding overlaps, again ensuring the correct amount of product is used and protecting the environment by preventing over-application. We also have the capability to apply slug pellets from an applicator fitted to the crop sprayer.
We are also able to apply Avadex using a trailed applicator towed behind the John Deere Gator and this is important if conditions are wet after drilling and do not allow us to use the rolls.